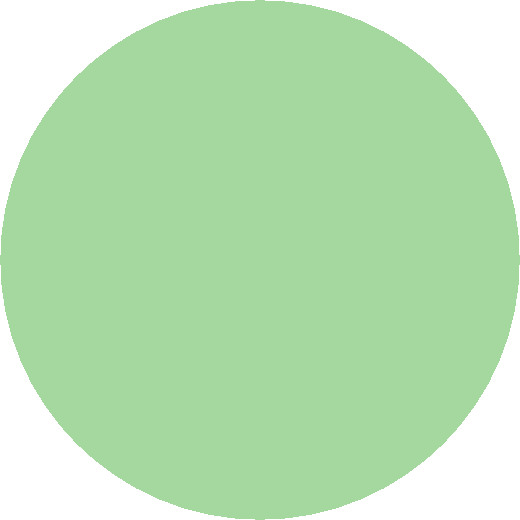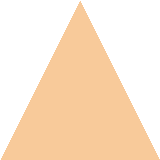 GE ELECTRIC CLOCK AND KITCHEN TIMER

A circa 1950 electric clock and timer manufactured by General Electric.  It is model 8F50. Made of plastic and metal it measures 5 1/4" tall. It is in excellent original condition. both clock and timer function perfectly. 

$45.00 

FRENCH CRYSTAL REGULATOR CLOCK

A elegant French clock that is very well made.  It is in excellent working condition.  The case is solid brass and the dial beautifully hand painted porcelain.  The pendulum is mercury filled.  The glass curved glass is beveled.  All is original.  The clock chimes once on the half hour and chimes accordingly for each hour.  The back of the clock reads France Medalille D' Argent (Silver Medal) L Marti 16th 1889.  This clock is in excellent running condition.   The height is

10 1/2"

$550.00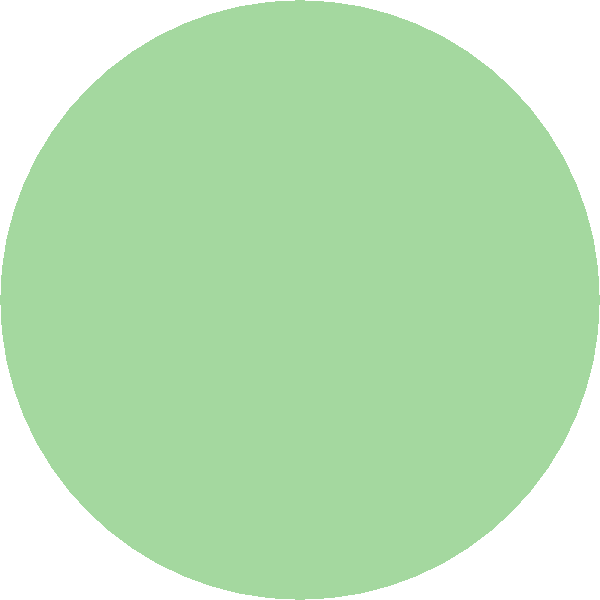 GERMAN ANNIVERSARY CLOCK

A brass plated c 1900 anniversary clock.  The brass works read The American silver Company made in Germany.  The clock has its original glass dome which is cracked and has a rather crude old repair.  The clock is in running condition.  The height to the top of the glass dome is  12 1/2"

$175.00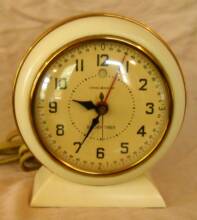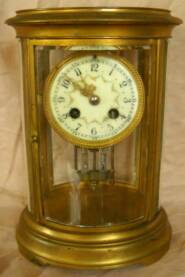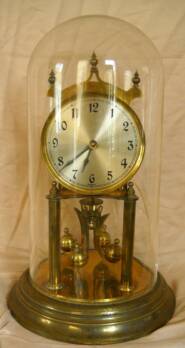 SETH THOMAS MANTLE CLOCK

This is a beautiful mahogany mantle clock manufactured in Thomaston, CT by Seth Thomas (for whom the CT town was named).  This quality clock has a 124 A movement and Mayland chimes which chime Westminster chimes on the hour, 1/4 hour, and 1/2 hour.  The clock runs and keeps good time.  I can't figure out exactly how to set the chimes for the correct hour, but they do work and sound very resonant.  The height is just under 10 3/4".  The clock case has very decorative inlaid veneer work

$350.00